Trust Our Specialists for Your Dental Implants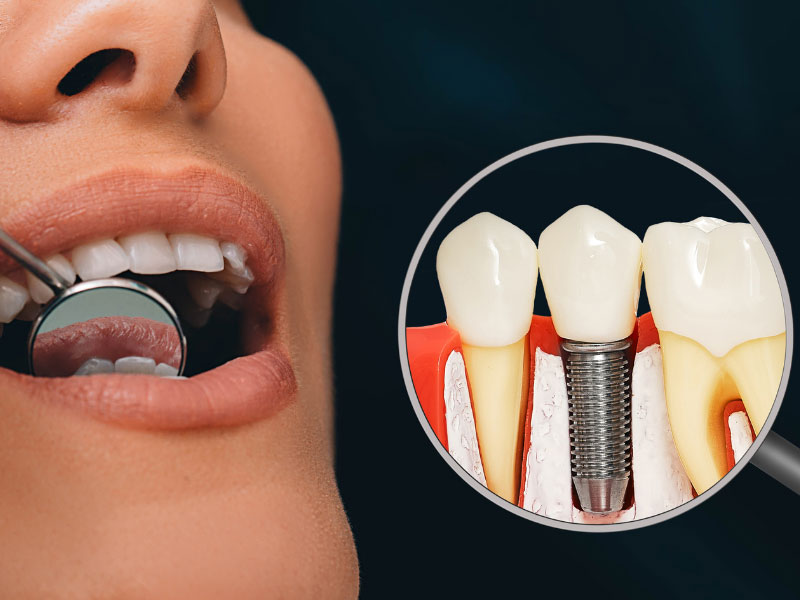 Dental implants have become a popular alternative to conventional dentures and dental bridges to replace missing teeth. Implants have key advantages in terms of functionality and appearance, but opting for implant dentistry requires careful consideration.
For instance, dental implants are more expensive than other tooth replacement methods, the process takes longer in some cases, and it involves oral surgery. In this post, you'll find out what you need to know about dental implants in order to make an informed decision on whether this tooth replacement solution is right for you. We'll also look at another important question: how can you find a dentist you can trust for your implants?
What is Implant Dentistry?
Implant dentistry is the surgical placement of implants to support artificial teeth. It provides a permanent solution to tooth loss, whether you're missing a single tooth, several teeth, or all your teeth.
The dental implant, a tiny titanium post, is surgically inserted into the socket of a missing tooth. It fuses with jawbone over time. Then a synthetic tooth or teeth can be attached to the artificial tooth root that's formed. An implant with a dental crown is used to replace a single tooth.
Implants can also be used to secure fixed dentures and bridges:
Implant-supported overdentures when all the upper or lower teeth are missing.
An implant-retained bridge to fill the gap left by one or more missing teeth.
Why Is It Important to Replace Missing Teeth?
Over time, in many cases our natural teeth don't survive the constant use they're subject to and we lose them due to factors such as cavities, gum disease, or injury. When we lose teeth, it not only spoils our smile but also impairs our ability to grind or cut food so we can swallow it. Teeth also help us speak clearly.
A further problem if you don't replace missing teeth is that more pressure is put on remaining teeth, which may drift out of place. This increases the risk of damage or premature wear. Tooth loss can also cause jaw pain or headaches. The solution to these problems is an artificial tooth or teeth. A variety of tooth replacement options are available, so why do many people choose dental implants?
Why Choose Dental Implants?
Dental implants are the next best thing to natural healthy teeth. They can last a lifetime and have become a popular option because of their practical and aesthetic advantages over other tooth replacement systems. Implant dentistry is unique in creating an artificial tooth root to promote jawbone growth – crucial to maintain facial structure and appearance.
Other reasons people choose dental implants include:
Permanent solution to tooth loss.
Resistance to staining.
Low maintenance – just normal brushing and flossing.
Better bite function than traditional dentures, which allows you to maintain a nutritious diet.
Who Can Do Dental Implants?
Different types of dentists can do implant dentistry, but they don't all have the same qualifications. For instance, a general dentist can perform implant dentistry only if they've had additional training in the procedure. This is why general dentists often refer implant patients to oral and maxillofacial surgeons. Oral and maxillofacial surgery is an established dental specialty that requires additional, extensive hospital-based training after graduation from dental school. This means dental specialists like Des Moines oral surgeons are better qualified and have more experience in providing dental implant treatment.
Why You Can Trust Our Des Moines Oral Surgeons for Your Implants
As highly skilled and experienced oral and maxillofacial surgeons, Des Moines-based Oral Surgeons PC (OSPC) are experts in the placement of dental implants. They also keep up to speed with the latest advances in dental implant technology and techniques. This means that as well as the traditional two-stage implant procedure, OSPC can provide single-stage implants and teeth-in-an-hour CT-guided implant surgery.
Single-Stage Implants at Oral Surgeons PC
Basic dental implant treatment is completed over two stages. First, the implant is placed and several months allowed for healing as it becomes part of your jaw. The second surgical procedure entails opening up the area so an abutment can be attached to the implant to anchor the artificial tooth. Single-stage dental implants avoid the second surgical procedure, and the artificial tooth can be placed after a minimum of six weeks of healing time.
CT-Guided Dental Implant Surgery at Oral Surgeons PC
Your oral surgeons in Des Moines use a cone-beam CT scanner to create 3D cross-sectional images of the jaw and teeth. This provides views of tissues, nerves, and bone structure and density that can't be seen with conventional dental X-rays. Using special software, implants can be placed into the 3D images of the jaw, and the process replicated as the actual surgery to place the implants. This technology is so precise that sometimes implants can be placed without incisions, and the artificial teeth attached the same day, in some cases within an hour.
Pre-Implant Bone Grafts at Oral Surgeons PC
An adequate amount of jawbone structure is essential to anchor a dental implant. Bone in the jaw can deteriorate with time if you haven't had a replacement tooth or teeth after extraction, or you've been wearing dentures for many years. In these situations, jawbone can waste away due to lack of stimulus from a tooth root – like muscle atrophies without exercise. If you lack sufficient quality jawbone to hold a dental implant, Oral Surgeons PC can perform a jawbone graft to promote growth of healthy bone that will secure an implant.
Sinus Lift Bone Grafts at Oral Surgeons PC
Another bone grafting procedure called a sinus lift can be performed by OSPC if you want implants but don't have enough bone volume in the upper jaw. A sinus lift – or sinus augmentation – elevates sinus membrane to accommodate bone graft material in the upper jaw around the back teeth – between the jaw and the maxillary sinuses on either side of the nose. The procedure is performed to prepare for dental implants in cases of bone loss or if your sinuses are too close together.
Why Our Patients Choose Us for Their Dental Implants
Implants are the most advanced method of replacing missing teeth. It follows that the best implant dentists are those with advanced training and skills in implant dentistry, like our Des Moines oral surgeons. Individuals who've suffered tooth loss know that in the hands of our dental implant specialists their new teeth will look as good as they feel, allowing them to show off their smile with confidence.
Call 515-287-7773 to find out more about the benefits of trusting Oral Surgeons PC for your dental implants, or to schedule a dental implant consultation.
Please login to publish a comment.
Comments (0)